the people of Eygpt who've been on the march for
2 years
are MarChinG en Mass Again
No one believes a dictator
No One believes a dictator's words!
'The people want the regime to fall," the crowds chanted.
Protesters and riot police clashed in Cairo on Tuesday near Tahrir Square, the birthplace of the uprising that
"Down with the rule of the Supreme Guide," they chanted, in reference to the head of the powerful Muslim Brotherhood, on whose ticket Morsi ran for office.
toppled former President Hosni Mubarak nearly two years ago.
t
oppled ToPpLed Dictator T

oPpLe ToPplE
th

e Muslim Brotherhood stole the revolution" read one banner in Tahrir.
Egyptian Protesters Clash with Police amid Upheaval over Morsi's Decree
Protests have erupted across
Egypt today amidst ongoing upheaval over President Mohamed Morsi's decree granting himself wide-ranging protections from judicial oversight. Clashes between police and protesters were reported Tuesday morning near Cairo's Tahrir Square, where some activists vowed to remain until Morsi cancels the edict. The actions come a day after tens of thousands of protesters gathered in Tahrir Square to attend the funeral of a protester who died following violent clashes with security forces last week. Hundreds of people have been injured amidst protests since the edict was issued. On Monday, Morsi met with the country's top judges in an effort to calm the crisis. Following the meeting, a Morsi spokesperson appeared to clarify last week's decree, saying only "acts of sovereignty" were immune from review.
Yasser Ali: "What is meant by Article 2 of the constitutional declaration in relation to the executive orders of the President of the Republic, relates to issues concerning sovereignty matters, as well as the fact that it is a temporary measure until the formation of a new constitution."
--------------------------------------------------------
TWitter
SearCh____

EgYpT

________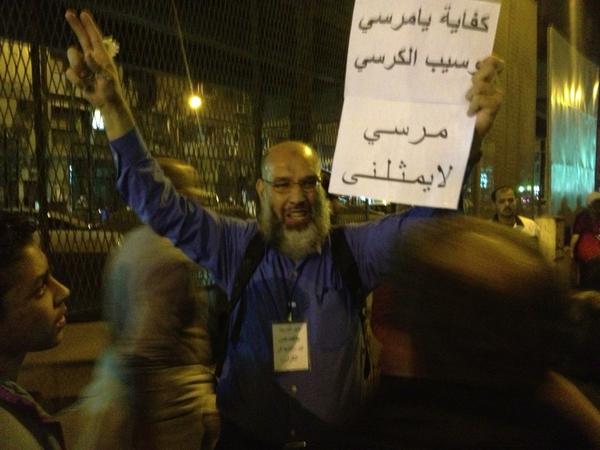 and angry arab news